Sony (SNE) has established itself as one of my favorite long-term plays going forward in 2019 through 2020 for the following reasons:
Digital Content Fuels Sony With PS5 Rumored To Be Announced This Year As Well
Back in November I wrote a detailed article on why you should play Sony Corporation (SNE) in your portfolio. Since then the stock has had almost exclusively positive news in gaming, music, and cinema, but has lagged slightly due to macroeconomic issues. The biggest upcoming catalyst for Sony is the rumored Playstation 5 on the horizon, and the historically substantial impact the announcement and release has had on SNE stock (Figure 1). Gaming continues to grow at an accelerated rate and although it is not the only aspect of Sony Corp., it is one of the most consistent and fastest growing segments.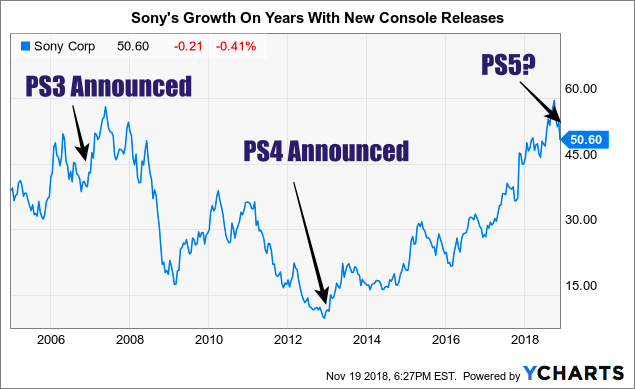 (Figure 1) Sony Historically Goes On ~40% Runs On Years New Consoles Are Announced – Good News With PS5 Rumored To Be On The Way
SNE stock has had a tough year with the Chinese trade war holding the stock back despite fantastic earnings reports all year long. As the company continues to grow digital content, I believe the trade war's effect on Sony has been considerably overblown causing a mispricing on this under-followed company. Digital content accounts for over half of Sony's music revenue and is rapidly growing in the gaming industry with downloadable games beginning to surpass actual disc based games. Therefore, even if the trade war continues Sony appears to be a safe investment with an upside of ~45% easily within the next 9-15 months. Add in a 0.53% dividend yield on top of all that and you get one of my strongest buy recommendations of 2019 in Sony.
Continue Reading Article On Seeking Alpha:
https://seekingalpha.com/article/4238583-sony-one-strongest-buys-2019
Sony Is The Gaming Stock You Want To Play
Sony Corporation (SNE) has transformed themselves into a leader in the gaming industry with their last two big hit consoles the PlayStation 3 and PlayStation 4. They continue to add growth to multiple other areas and will more than likely announce the release of the long-awaited PlayStation 5 in the coming year. With this announcement will come the opportunity to profit off of the company's success. If trends continue, the company should set record highs in the near future as they streamline their already successful business.
Sony has made numerous moves in the past few years that have helped set them apart from competitors. Acquiring new publishing groups in music, beating just about every analyst's projections in the movie industry, and cutting back on their laggards such as the mobile industry have all helped the company prosper. SNE appears extremely undervalued where they currently sit and could easily go on a very nice run if more potential catalysts and acquisitions can come along.
Continue Reading Article On Seeking Alpha:
https://seekingalpha.com/article/4224565-sony-game-want-play
Other Similarly Attractive Plays Include:
$EA
$ATVI
$MU