Summary
Brunswick offers a safer buy than most stocks in the current highly volatile markets.
A great value buy that comes with a nice sized dividend.
With a new CEO coming in at the end of 2018, Brunswick could be on the move soon.
A Safe Quality Bet With Brunswick Corp.
Brunswick Corporation (BC) has been around since 1845. They have delivered high quality products again and again for over 170 years. This consumer cyclical stock has been around for a long time, and it is safe to say they will be around for quite some time more. The market has had a lot of volatility lately, and this has caused investors to flock to quality stocks that do well during a recession like Coca-Cola (KO) and McDonalds (MCD). Brunswick is another option if you want to protect your portfolio, and still have the opportunity for growth as well. The company produces everything from marine motors and parts to fitness equipment, and even billiards. With a wide variety of products this investment is safe even as the economy faces an oncoming slowdown. Brunswick did have a rough time in the last recession, but this was due to other issues within the company that have since been solved.
Earnings Per Share (NYSEARCA:EPS) numbers for Brunswick have grown to 4.69 from 3.89 the prior year. That is nearly a 21% gain in earnings in just one year while the stock has actually fallen a few percent year to date (Figure 1). This shows the stock is a terrific value play that continues to produce growth again and again. I believe this stock is a buy as changes in management have shaken things up of late, but will return to steady gains when it all pans out. Even if growth does not accelerate as expected, you can still be a winner with their growing 1.44% Dividend yield.
                                  (FIGURE 1) BRUNSWICK YTD VALUE AND DIVIDEND GROWTH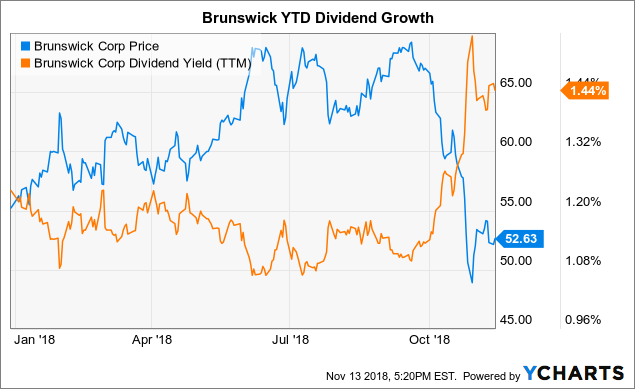 Value Plus Growth
Brunswick looks to be a good value play compared to their competitors in the boating industry. They create quality products such as Mercury, Quicksilver, and Crestliner, yet they appear to be undervalued compared to rivals such as Malibu Boats, Inc. (MBUU) and Marine Products Corporation (MPX). Brunswick has an EV (Enterprise Value) of 11.1 while the aforementioned competitors have an EV 13.3 and 19.9 respectively. This shows that the stock has room to grow as earnings translate into stock price.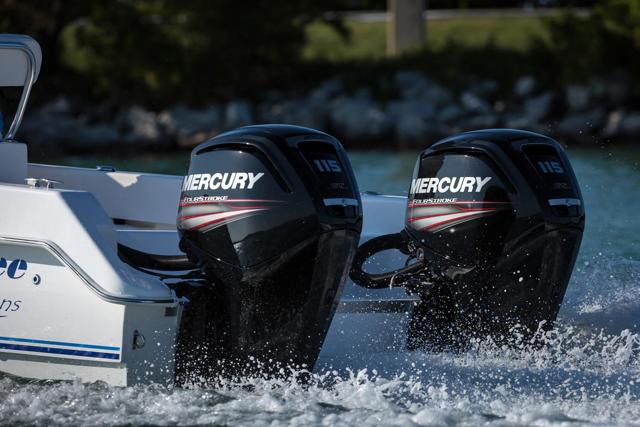 Mercury Has Been One Of Brunswick's Most Successful Brands Time and Time Again
Wall Street Analysts agree that you should look into Brunswick Corp. (BC) as 5 think the stock is a strong buy, 9 more believe it is a buy, and just 4 think the stock is a hold. Giving Brunswick an overall recommendation rating of 1.8 with 1 being a strong buy and 5 being a strong sell.
Revenue has grown from $3.78 Billion in 2015 to $4.51 Billion in 2017. That is nearly a 20% gain over just 2 years. Not too bad for a 170+ year old company. The stock trades at basically the same price as it did in 2015, which signals an opportunity for growth based off of value alone.
Changes On The Horizon
Management has began going through changes of late, and this could spur growth in the company. Largely overlooked by the public, the company announced this news last month regarding CEO Mark Schwabero:
In October 2018, Schwabero announced he would retire from the Company at the end of 2018. He will be succeeded by David Foulkes, President – Brunswick Marine Consumer Solutions and Chief Technology Officer.
Foulkes, who spent 18 years with Ford Motor Company, will look to turn the companies profits and growth into real returns in the stock market. Brunswick has begun to focus more solely on marine equipment, selling their bowling division to Bowlmor AMF in 2014 for $270 million after being in the business for decades. It shows in the earnings as Brunswick continues to streamline their business and focus on the areas where they are making the most profits. With a new CEO coming into play, Foulkes must continue what Mark Schwabero began to grow Brunswick in the areas they excel most in.
Ways To Play
Going into 2019 it could be hard to go wrong with Brunswick Corporation (BC). The earlier you get in the sooner you can begin profiting off of the growing dividend. Even if the market declines in all the current turmoil you can feel safe in the value of Brunswick. I think this stock could easily hit $60 by mid 2019, as that would be around a 20% increase which is about the amount the stock appears to be undervalued by currently due to yearly revenue growth. Buying $55 calls over a longer period of time is another options, but would obviously be much riskier, and I think the best way to play this stock is as a safety piece in your portfolio. Coming off of another big earnings beat, there appears to be little downside to this stock so if you are looking for a safe growing value play, Brunswick Corporation is the stock for you.
Disclosure: I/we have no positions in any stocks mentioned, and no plans to initiate any positions within the next 72 hours.